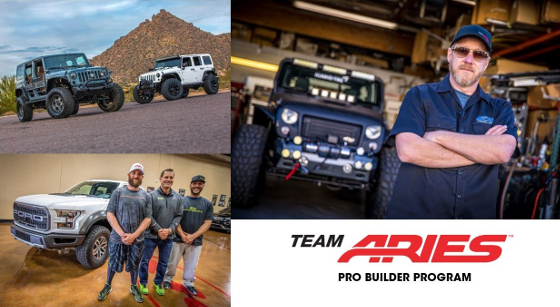 What does it mean to be on a team? At ARIES, we feel that being part of a team has some HUGE advantages: coordinated effort towards a common goal, comradery and friendship with like-minded individuals and ultimately the highest goal: SUCCESS!
In 2016, ARIES Automotive set out on a mission to assemble a TEAM of elite builders from across the nation. The best-of-the-best in terms of automotive industry leaders and innovators with a PASSION for what they do. We call this initiative the TEAM ARIES Pro Builder Program.
TEAM ARIES is categorized by two levels of involvement. Our Pro Builders are the elite builders in the U.S. and Canada with brick-and-mortar business you can visit to have your ride built to show-level quality.
Our Ambassador program is made up of individuals and businesses who showcase the work of our builders and support them and their efforts to promote their work.
To see a video about the TEAM ARIES Pro Builder program or to become an ARIES dealer, click here.
About ARIES Automotive: ARIES is a fast-paced marketer and innovator of truck, Jeep, SUV and CUV accessories. We specialize in custom-fit grille guards, bull bars, side bars, running boards and interior floor liners, as well as Jeep-specific accessories, such our modular Jeep bumpers. ARIES accessories are made vehicle-specific and are available for most makes and models of trucks, Jeeps, SUVs and CUVs sold in North America. We operate out of five regional warehouses throughout the U.S. and Canada, and our products are marketed through retailers, distributors, installers and eTailers across North America.