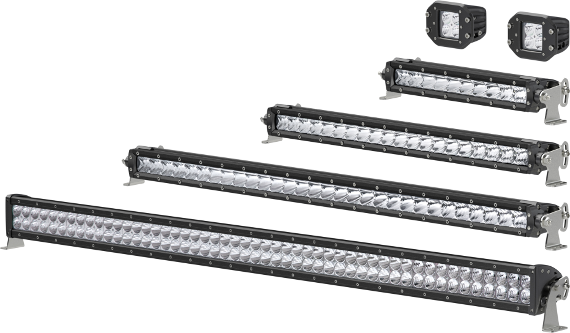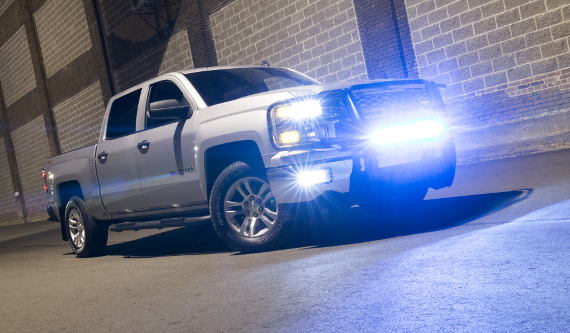 ARIES Automotive, a fast-paced marketer and innovator of truck, Jeep, SUV and CUV accessories, has introduced an all-new product line of LED light bars and LED work lights. Six new lights, ranging from 2" work lights up to 50" light bars, feature grade A LED chips, waterproof construction, a 50K-hour lifespan and a pedigree of thorough testing and certifications.
ARIES offers a number of unique products that are equipped with LED light mounts, but for 2017, we are now offering the high-quality LED lights to complement these products. Our approach in bringing aboard these new lights, as always, was the pursuit of innovation backed with quality. As such, we sought out some of the best LED technology in the industry.
Each ARIES light boasts grade A LED chips from Cree, a leader in LED technology. The chips are set into a high-efficiency reflector to offer an impressive 96% efficiency, and they are protected within a waterproof aluminum housing and crack-resistant lexan lens. The housing also features an IP68-standard breather, keeping moisture and air from getting inside and damaging the LEDs.
To ensure optimum performance and maximum lifespan, ARIES LED lights undergo strenuous testing. The list of tests includes a UV test, extreme temperature test, vibration test, dust test, salt test and altitude test. They are also CE-certified and RoHS-certified. With their rugged construction and intensive testing, each light has an average lifespan of 50,000+ hours: five years of continuous use!
Our new line of LED lights provides ARIES customers with a complete product solution. We have introduced six new SKUs:
To see our LED lights in action or become an ARIES dealer, click here.
About ARIES Automotive: ARIES is a fast-paced marketer and innovator of truck, Jeep, SUV and CUV accessories. We specialize in custom-fit grille guards, bull bars, side bars, running boards and interior floor liners, as well as Jeep-specific accessories, such our modular Jeep bumpers. ARIES accessories are made vehicle-specific and are available for most makes and models of trucks, Jeeps, SUVs and CUVs sold in North America. We operate out of five regional warehouses throughout the U.S. and Canada, and our products are marketed through retailers, distributors, installers and eTailers across North America.