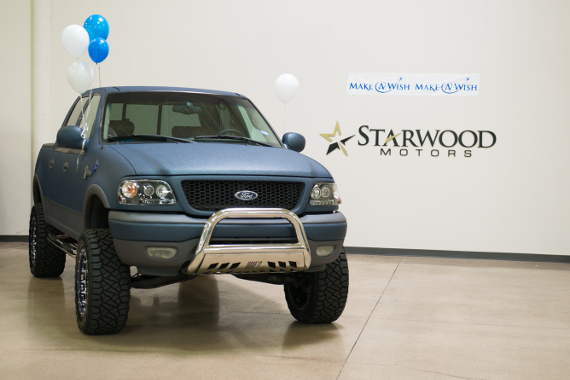 ARIES Automotive, a fast-paced marketer and innovator of truck, Jeep, SUV and CUV accessories, is proud to announce its partnership with the Make-A-Wish Foundation in another exciting build project. This build was a collaboration with Starwood Motors and several other companies within the automotive aftermarket to turn one man's Ford F-150 into a dream truck.
The build started with a young man, Jordan Shrum, who merely wished for a new paint job on his 2001 Ford F-150 SuperCrew 4x4. The wish was granted by the North Texas Make-A-Wish Foundation, and after several discussions and an inspection of the vehicle, it was decided that the young man and the truck deserved much more.
Make-A-Wish reached out to several large aftermarket manufacturers to deliver far beyond a new paint job. With contributions and collaborative efforts from ARIES Automotive, Center Line Alloy Wheels, Fabtech Suspensions, Nitto Tire USA and others, the truck was given a new exterior finish, suspension components, leather interior, wheels, tires and several other accessories.
ARIES Automotive was proud to donate one of our 3" bull bars #35-3004 with a polished 304 stainless steel construction, and a set of 3" round side bars #203009-2, featuring the same highly rust-resistant stainless steel construction and custom, non-skid step pads.
The newly customized Ford F-150 was revealed and delivered by Starwood Motors on Saturday, January 28th, 2017.
To become an ARIES dealer, click here.
About ARIES Automotive: ARIES is a fast-paced marketer and innovator of truck, Jeep, SUV and CUV accessories. We specialize in custom-fit grille guards, bull bars, side bars, running boards and interior floor liners, as well as Jeep-specific accessories, such our modular Jeep bumpers. ARIES accessories are made vehicle-specific and are available for most makes and models of trucks, Jeeps, SUVs and CUVs sold in North America. We operate out of five regional warehouses throughout the U.S. and Canada, and our products are marketed through retailers, distributors, installers and eTailers across North America.