Kitted Part Numbers Include the 1st and 2nd Row Liners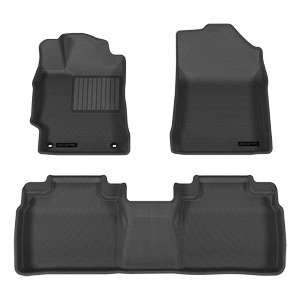 ARIES Automotive, a fast-paced marketer and innovator of truck, Jeep, SUV and CUV accessories, is now offering kitted part numbers for StyleGuard™ floor liners. StyleGuard™ kits provide complete vehicle coverage by including the 1st and 2nd row liners under one part number.
With a unique look and a custom-molded fit for each application, StyleGuard™ offers ultimate interior protection. For ultimate convenience, StyleGuard™ floor liners can now be purchased in a complete package for the vehicle. Kits are available for select makes and models. The third row and cargo liner are not included.
Also, to make it easier for our customers to find the right fit for each vehicle, we are introducing a new labeling system for all StyleGuard™ floor liners. Application information will be included on each box label, showing the year, make, model and style for every application. The labels will be printed at the time the order is pulled from our warehouses to ensure the most current application information available.
To learn more about ARIES Automotive and its products, go to ariesautomotive.com.
About ARIES Automotive: ARIES is a fast-paced marketer and innovator of truck, Jeep, SUV and CUV accessories. We specialize in custom-fit grille guards, bull bars, side bars, running boards and interior floor liners, as well as Jeep-specific accessories, such our modular Jeep bumpers. ARIES accessories are made vehicle-specific and are available for most makes and models of trucks, Jeeps, SUVs and CUVs sold in North America. We operate out of five regional warehouses throughout the U.S. and Canada, and our products are marketed through retailers, distributors, installers and eTailers across North America.


Media Contact:
Sarah Brandenburg
sbrandenburg@curtmfg.com
715.838.4048