NSF1 Jeep Decked with CURT, ARIES and Other Brands Supporting Navy SEAL Foundation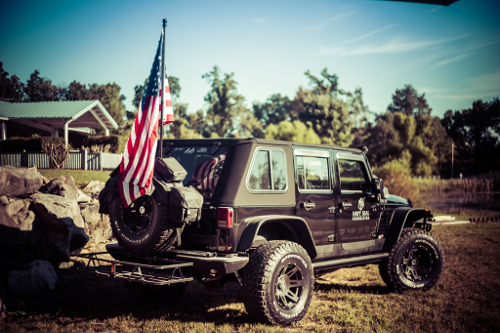 CURT Manufacturing, the leading manufacturer of USA-made towing products, and ARIES Automotive, a fast-paced marketer and innovator of truck, Jeep, SUV and CUV accessories, teamed up with The AAM Group last year to sponsor "NSF1 Project Jeep" for the Navy SEAL Foundation. On April 4, the finished build, the "NSF1", will be making its way up to Eau Claire, WI to stop at CURT Manufacturing headquarters.
More than 25 manufacturers and distributors donated products to bring the NSF1 Project Jeep to life. CURT Manufacturing was one of those, contributing a receiver hitch, ball mount, hitch lock, trailer ball, cargo carrier and bike rack to the cause. ARIES donated front and rear modular bumpers, tubular doors and tow hooks.
Since fall of last year, the NSF1 has been touring the nation, making stops at SEMA 2015, the Easter Jeep Safari in Moab and more. On the afternoon of April 4, CURT associates will get to see the Jeep first-hand as it makes a stop at CURT headquarters. Greg Griffith of The AAM Group and retired Navy SEAL Murray Casey will be there to meet CURT associates and show off the hard work that has gone into customizing the NSF1. There will be cupcakes, balloons, T-shirts and local media coverage.
Joe Thompson, Sr. VP of Sales & Marketing for CURT Manufacturing said, "We are very proud of our association with the Navy SEAL Foundation and the fine work they do. We are honored to welcome recently retired Navy SEAL, SOCM Murray Casey, Jr., and our NSF1 Jeep partners from The AAM Group to the CURT plant."
After the visit to Eau Claire, the NSF1 will resume its nation-wide tour. Following the tour, the Jeep will be presented to the Navy SEAL Foundation for their continued use at air shows, recruiting drives, veterans' events and other promotional engagements. To see an exciting video on the NSF1 Project Jeep, click here.
To learn more about CURT Manufacturing and its products, go to curtmfg.com. To learn more about ARIES Automotive and its products, go to ariesautomotive.com.
About CURT Manufacturing: CURT is a leading manufacturer and marketer of premium towing products. The company offers American-made, custom-fit receiver hitches and wiring harnesses for nearly any vehicle on the road. They also market a broad range of trailer hitches, towing systems and related accessories. CURT is 'The First Name in Towing Products' for automobile, SUV, and truck hitches, as well as RV, gooseneck and commercial towing systems. Products are marketed through retailers, distributors, installers, and e-tailers across the U.S. and Canada. CURT employs hundreds of associates, primarily at their manufacturing facility and corporate headquarters located in Eau Claire, Wisconsin. CURT operates 10 regional warehouses throughout the United States and Canada and has been twice named a Wisconsin 'Manufacturer of the Year'.
About ARIES Automotive: ARIES is a fast-paced marketer and innovator of truck, Jeep, SUV and CUV accessories. We specialize in custom-fit grille guards, bull bars, side bars, running boards and interior floor liners, as well as Jeep-specific accessories, such our modular Jeep bumpers. ARIES accessories are made vehicle-specific and are available for most makes and models of trucks, Jeeps, SUVs and CUVs sold in North America. We operate out of five regional warehouses throughout the U.S. and Canada, and our products are marketed through retailers, distributors, installers and eTailers across North America.


Media Contact:
Sarah Brandenburg
sbrandenburg@curtmfg.com
715.838.4048