Easter Jeep Safari to Span Nine Days Over 30 Different Trails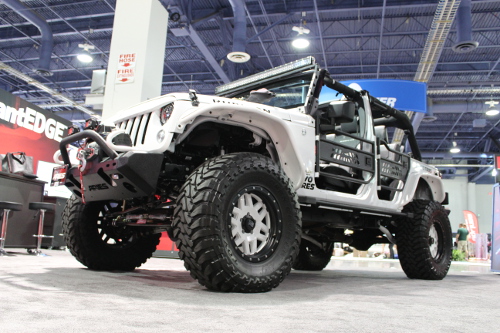 ARIES Automotive, a fast-paced marketer and innovator of truck, Jeep, SUV and CUV accessories, will be heading out to Utah on March 20th for the 50th annual Easter Jeep Safari in Moab. We are looking forward to riding some trails, meeting some other Jeep enthusiasts and showing off many of our unique Jeep products.
With names like Hell's Revenge and Cliffhanger, the trails of Moab do not appeal to everyone, but they are exactly what brings the Jeep crowd to this beautiful, treacherous landscape every year. The Easter Jeep Safari will be nine days of epic trail rides across 30 different trails, rallying hundreds of Jeep and off-road enthusiasts. There will also be a vendor show, raffle and barbecue. Participants are expected to bring their own food, water and sun protection.
For this special 50th anniversary of the event, ARIES will be featuring a 2015 Jeep Rubicon, customized with several of our exciting products. We will be showing our new Jeep rocker steps, modular bumpers, aluminum tube doors, security cargo lid, fender flares, tire relocator, removable mud flaps and more. "We have a lot of unique and new products to show, and it's always a blast to be a part of something like this and see the response of our fellow Jeep enthusiasts," said ARIES President Jeff Perez. "It's easy to talk up your products on the web or in an advertisement, but actually showing them off in the field makes a very strong statement."
The Easter Jeep Safari will be taking place March 20 - 27. To learn more, go to rr4w.com. To learn more about ARIES Automotive and our products, go to ariesautomotive.com.
About ARIES Automotive: ARIES is a fast-paced marketer and innovator of truck, Jeep, SUV and CUV accessories. We specialize in custom-fit grille guards, bull bars, side bars, running boards and interior floor liners, as well as Jeep-specific accessories, such our modular Jeep bumpers. ARIES accessories are made vehicle-specific and are available for most makes and models of trucks, Jeeps, SUVs and CUVs sold in North America. We operate out of five regional warehouses throughout the U.S. and Canada, and our products are marketed through retailers, distributors, installers and eTailers across North America.


Media Contact:
Sarah Brandenburg
sbrandenburg@curtmfg.com
715.838.4048