54th Annual Desert Safari Expected to Bring Thousands of Jeep Enthusiasts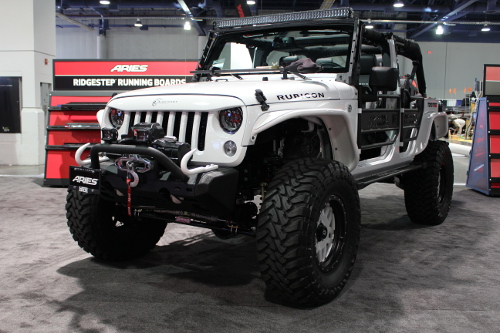 ARIES, a leader in innovative automotive accessories, will be hitting the dunes this week for the 54th annual Tierra Del Sol Desert Safari. We will be joining thousands of other Jeep enthusiasts in southern California and bringing our own set of wheels, decked out with many of our unique products.
Tierra Del Sol is one of southern California's largest not-for-profit, family-oriented 4x4 clubs. They put on events like the Desert Safari that are suitable for the entire family, and they donate the proceeds to various charities to help keep trails and public lands open. On March 4th, crowds of enthusiasts will gather to enjoy hot Jeeps, cold drinks, epic trail rides, mudding, fireworks and more.
This year, ARIES will be showing a 2015 Jeep Rubicon customized with several of our exciting products, including our new Jeep rocker steps, modular bumpers, aluminum tube doors, security cargo lid, fender flares, tire relocator, removable mud flaps and more. "This Jeep build was displayed in our SEMA booth this year, and we had a great response," said ARIES President Jeff Perez. "We're looking forward to showing it off again to such an enthusiastic Jeep crowd."
The Tierra Del Sol Desert Safari will be taking place March 4th, 5th and 6th. To learn more, go to tds4x4.com. To learn more about ARIES and our products, go to ariesautomotive.com.
About ARIES Automotive: ARIES is a leader in innovative automotive accessories. We specialize in custom-fit grille guards, bull bars, side bars, running boards and interior floor liners, as well as Jeep-specific accessories, such our modular Jeep bumpers. The majority of ARIES products are made vehicle-specific and are available for most makes and models of trucks, Jeeps, SUVs and CUVs sold in the United States. We operate out of five regional warehouses throughout the U.S. and Canada, and our products are marketed through retailers, distributors, installers and eTailers across North America.


Media Contact:
Sarah Brandenburg
sbrandenburg@curtmfg.com
715.838.4048