Decked Out Jeep to Venture on Nation-Wide Tour before Presentation to Navy SEAL Foundation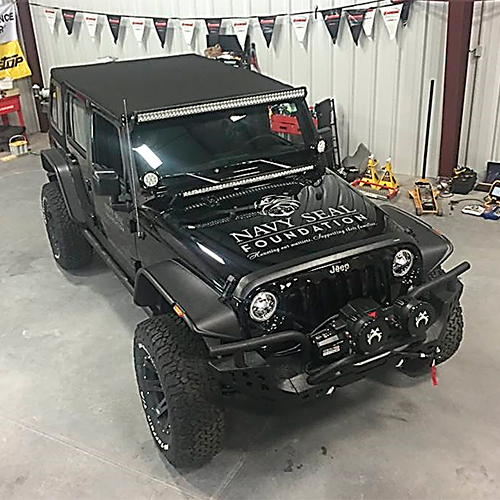 CURT Manufacturing, the leading manufacturer of USA-made towing products, and ARIES Automotive, an innovator of automotive accessories, have joined in supporting The AAM Group in sponsoring "NSF1 Project Jeep" for the Navy SEAL Foundation.
The AAM Group, the largest marketing program for retailers in the specialty automotive aftermarket, was approached by Lee Adelman, Vice President of eCommerce at CURT Manufacturing and ARIES Automotive, with the vision of building a custom Jeep to benefit the Navy SEAL Foundation. The AAM Group embraced Lee's vision and led the project as the developer and builder. Once the project was underway, more than 20 other manufacturers and distributors joined the cause. ARIES donated front and rear modular bumpers, tubular doors and tow hooks; while CURT donated a hitch, ball mount, hitch lock, trailer ball, cargo carrier and bike rack to NSF1 Project Jeep.
The Jeep will be traveling to several events and making a grand appearance in front of the central hall at the 2015 SEMA Show in Las Vegas, Nevada. Following the NSF1 Project Jeep national tour of appearances, the Jeep will be presented to the Navy SEAL Foundation for their continued use at air shows, recruiting drives, veterans' events and other promotional engagements. To see an exciting video on the NSF1 Project Jeep, click here.
About ARIES Automotive: ARIES is a leader in innovative automotive accessories. We specialize in custom-fit grille guards, bull bars, side bars, running boards and interior floor liners, as well as Jeep-specific accessories, such our modular Jeep bumpers. The majority of ARIES products are made vehicle-specific and are available for most makes and models of trucks, Jeeps, SUVs and CUVs sold in the United States. We operate out of five regional warehouses throughout the U.S. and Canada, and our products are marketed through retailers, distributors, installers and eTailers across North America.
About CURT Manufacturing: CURT is a leading manufacturer and marketer of premium towing products. The company offers American-made, custom-fit receiver hitches and wiring harnesses for nearly any vehicle on the road. They also market a broad range of trailer hitches, towing systems and related accessories. CURT is 'The First Name in Towing Products' for automobile, SUV, and truck hitches, as well as RV, gooseneck and commercial towing systems. Products are marketed through retailers, distributors, installers, and e-tailers across the U.S. and Canada. CURT employs hundreds of associates, primarily at their manufacturing facility and corporate headquarters located in Eau Claire, Wisconsin. CURT operates 10 regional warehouses throughout the United States and Canada and has been twice named a Wisconsin 'Manufacturer of the Year'.


Media Contact:
Sarah Brandenburg
sbrandenburg@curtmfg.com
715.838.4048