New Name Resonates with Product's Unique Features & Style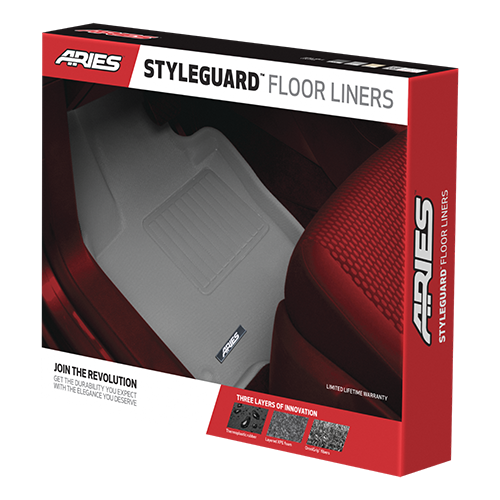 ARIES 3D floor liners with Maxpider fibers are getting a new name. Although nothing will change in the way of quality, function or part numbers, effective October 1, 2015, we will officially change the name to ARIES StyleGuard™ floor liners with OmniGrip™ fibers.
The name change offers benefits for both ARIES and our customers. While 3D only points to one of the product's features (its vehicle-specific contour), StyleGuard™ speaks directly of its primary function and major selling points; that is, its unique, stylish appearance and protective design. Likewise, the change to OmniGrip™ better conveys the product's use. While Maxpider is somewhat vague, OmniGrip™ describes the effectiveness of the fibers to anchor to any and all types of carpet.
ARIES StyleGuard™ floor liners with OmniGrip™ fibers will feature new packaging, marketing materials and the new ARIES logo. There will also be website and point-of-purchase updates. This will be a rolling change and will require no additional effort on the part of our customers.
If you have signage or other marketing materials displaying "3D" or "Maxpider", please contact your sales representative to receive updated materials. To see the new ARIES StyleGuard video or to become a dealer, click here, and be sure to visit us at our booth at SEMA 2015 (booth# 34097).
About ARIES Automotive: ARIES is a leader in innovative automotive accessories. We specialize in custom-fit grille guards, bull bars, side bars, running boards and interior floor liners, as well as Jeep-specific accessories, such our modular Jeep bumpers. The majority of ARIES products are made vehicle-specific and are available for most makes and models of trucks, Jeeps, SUVs and CUVs sold in the United States. We operate out of five regional warehouses throughout the U.S. and Canada, and our products are marketed through retailers, distributors, installers and eTailers across North America.


Media Contact:
Sarah Brandenburg
sbrandenburg@curtmfg.com
715.838.4048