Jeep Security Cargo Lids
For ultimate off-road security and storage
Sometimes you need to leave your Jeep parked to explore new terrain on foot. But without the hardtop installed and the doors locked, what's to stop forest critters or potential thieves from raiding your gear? The simple answer is the ARIES Jeep security cargo lid. This innovative product is an integrated security system that turns the rear cargo area of your 4x4 into a fully lockable, key-operated storage enclosure. It not only allows you to keep items under lock and key while you're away, but it also helps protect them from the elements.
Integrated security
The simple, six-panel design of the ARIES Jeep security cargo lid bolts directly into the bed of your Jeep, utilizing the existing space and layout. This allows for a convenient storage area that works with the rear door and is compatible with the hardtop off or on, as well as with a soft top or subwoofer.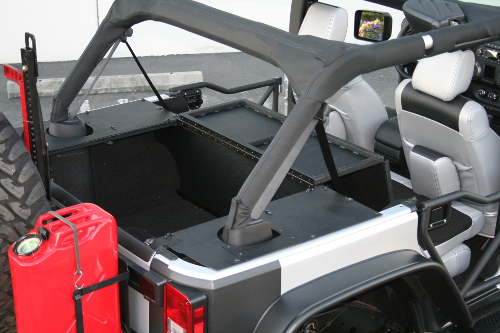 Versatile design
Tie-down anchors and a weight capacity of 75 lbs. allow additional items to be stored on top of the Jeep security cargo lid. The tie-down anchors have a 1/2" diameter to accept various cargo straps or bungees. The lid can also be flipped up and converted into a usable surface, such as a table or workbench.
Lightweight aluminum build
Part of building the ultimate off-roading machine is keeping your Jeep agile and lightweight. The ARIES security cargo lid is made with hardened, T6 aluminum construction, making it strong, rust-free and lightweight. An aluminum construction allows the lid to keep valuables safe, while easily withstanding the elements. We also cover each panel in a textured black powder coat finish that is specifically designed to hide scratches and grime.
Whether you're tasting the open air of the trail or just putting in another hard day's work, we don't think you should have to worry about sticky fingers or prying claws. When your Jeep is built for going off-road, pack it up and lock it down right with the ARIES Jeep security cargo lid.