Jeep Tube Bumpers
For a classic look that never goes out of style
You make plans when the forecast says the storm is coming. You cut through the forest when the sign says "Dead End". You step on the gas when the mud gets thicker and the water rises. You are a Jeep owner, and when you set out to climb to the top of that ridge, you find a way to get there no matter how many times they tell you to turn back.
Available for the front and rear
ARIES tubular Jeep bumpers offer a classic look for older Jeep models. They feature a 3" diameter, heavy-wall tube construction and a double-stacked design that contours to your Jeep. Our front Jeep tube bumpers feature a large welded brush guard to provide extra protection for the grille, while our rear bumpers are equipped with a gap to be compatible with the rear spare tire.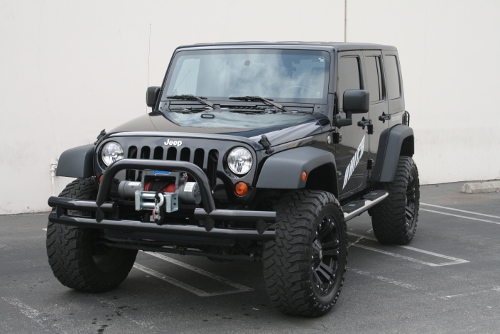 Two finish options
To make sure ARIES tubular Jeep bumpers have what it takes to outlast the road ahead, we offer them in two durable finish options: polished stainless steel and semi-gloss black powder-coated carbon steel. The stainless steel option is made with 304 stainless to be truly stainless and easily resist rust and corrosion. We also give it a mirror-like polished finish to be a bright accent on your ride. The semi-gloss black option is made with high-strength carbon steel and is shielded with a polyester-based powder coat finish to withstand rust, scratches and peeling.
Vehicle-specific fit
To finish off this classic, the ARIES Jeep tube bumper is made for a vehicle-specific fit. For both the front and rear, it installs using the factory bumper mounting points. This allows for a speedy, no-drill installation and ensures a strong mount.
For aftermarket Jeep products that can go the distance, over boulders and through uncharted woods, ARIES has what you are looking for.